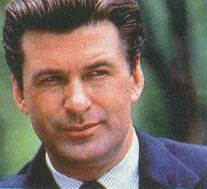 Alexander Rae Baldwin III est né le 3 avril 1958 à Massapequa (Long Island, New York, USA, il est marié avec Kim Basinger depuis le 19 août 1993. De tous les frères ou cousins Baldwin (William, Stephen, Daniel ou Joseph), il est celui qui semble avoir le mieux réussi.
Sa carrière commence par des séries télévisées :
en 1980 : "The Doctors",
en 1983 : "Cutter to Houston",
en 1984 : "Knots Landing" ("Côte Ouest"),
en 1984 : "Sweet Revenge" de David Greene, avec Kevin Dobson (Mack MacKenzie de "Côte Ouest"),
en 1985 : "Love on the Run", avec Constance McCashin (Laura Avery de "Côte Ouest"), Howard Duff (Paul Galveston de "Côte Ouest"), Stephanie Zimbalist (de "Remington Steele"),
en 1986 : "Dress Gray".
Puis il tourne des films aux côtés d'acteurs connus avant de devenir lui-même une star. Citons entre autre :
en 1987 : "Forever, Lulu" de Amos Kollek, avec Anna Schygulla, Debbie Harry ("Blondie"),
en 1988 : "Working Girl" de Mike Nichols, avec Harrison ford, Sigourney Weaver, Melanie Griffith,
en 1988 : "Talking Radio" de Oliver Stone,
en 1988 : "Beetlejuice" de Tim Burton, avec Michael Keaton, Geena Davis, Wynona Ryder,
en 1988 : "Married to the Mob" de Jonathan Demure, avec Michelle Pfeiffer, Joan Cusak,
en 1989 : "Great Balls of Fire" ("Great Balls of Fire") de Jim McBride, avec Dennis Quaid, Winona Ryder,
en 1990 : "Alice" ("Alice") de Woody Allen, avec Mia Farrow, Joe Mantegna,
en 1990 : "The Hunt for Red October" de John Mc Tiernan, avec Sean Connery,
en 1991 : "The Marrying Man" de Jerry Rees, avec Kim Basinger,
en 1992 : "Prelude to a Kiss" de Norman René, avec Meg Ryan,
en 1992 : "Glengarry Glen Ross" de James Foley, avec Al Pacino, Jack Lemmon,
en 1993 : "Malice" de Harolk Becker, avec Nicole Kidman, Gwyneth Paltrow,
en 1994 : "The Getaway" de Roger Donaldson, avec Kim Basinger,
en 1995 : "A streetcar named desire" ("un tramway nommé désir"), de Glenn Jordan, avec Jessica Lange, Diane Lane,
en 1996 : "Ghosts of Mississippi" de Rob Reiner, avec Demi Moore, Whoopi Goldberg,
en 1996 : "The Juror" de Brian Gibson, avec Demi Moore,
en 1996 : "Looking for Richard" de Al Pacino, avec Al Pacino, Wynona Ryder.
Quelques apparitions dans :
"The Larry Sanders Show",
"Les Simpsons".
retour