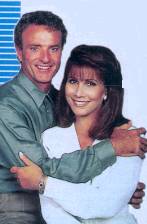 Kevin Dobson est né le 18 mars 1943 à New York (New York, USA).
Il a tourné surtout pour la télévision. Entre autre :
en 1976 : "Midway" ("la Bataille de Midway") de Jack Smight, avec Charlton Heston, Henry Fonda, James Coburn, Glenn Ford, Robert Mitchum, Robert Wagner, Steve Kanaly (Ray Krebbs de "Dallas"),
en 1978 : "Greatest Heroes of the Bible" de James L.Conway, avec Julie Adams, Lew Ayres, John Carradine, Robert Vaugh,
en 1979 : "Orphan Train" de William A. Graham, avec Glenn Close,
en 1980 : "Reunion" de Russ Mayberry, avec Nick Cassavetes, Linda Hamilton, Lew Ayres,
en 1981 : "All Night Long" de Jean-Claude Tramont, avec Gene Hackman, Barbra Streisand, Diane Ladd, Dennis Quaid,
en 1984 : "Sweet Revenge" de David Greene, avec Alec Baldwin (Joshua Rush de "Côte Ouest"),
en 1989 : "Money, Power, Murder" de Lee Philips, avec Perter Bergman ("Les Feux de l'Amour"),
en 1990 : "Kojak : It's Always Something", avec Telly Savalas,
en 1991 : "Fatal Friendship" de Bradford May, avec Kate Mulgrew,
en 1992 : "A House of Secrets and Lies" de Paul Schneider, avec Connie Sellecca, Grace Sabriskie,
en 1996 : "F/X : The Series" ("FX, effets spéciaux"),
en 1997 : "Knots Landing : Back to the Cul-de-Sac".
On l'a vu à la télévision dans :
"L'Homme à la Rolls",
"Les Anges du bonheur",
"L'As de la crime".
retour