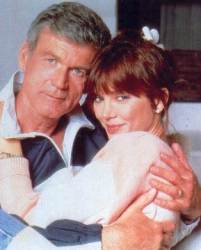 Donald Patrick semblait prédestiné à faire du cinéma puisqu'il est né le 31 juillet 1929 à Hollywood (Californie, USA) ! Il a été révélé au théatre dans "La Rose Tatouée" mise en scène par Elia Kazan, puis au cinéma par son premier film "Bus Stop" avec Marilyn Monroe.
Voici un extrait de sa longue filmographie :
en 1956 : "Bus Stop" ("Arrêt d'autobus") de Joshua Logan, avec Marilyn Monroe,
en 1957 : "The Bachelor Party" ("La Nuit des maris") de Delbert Mann, avec E.G. Marshall, Jack Warden,
en 1957 : "A Hatful of Rain" ("Une Poignée de neige") de Fred Zinnemann, avec Eva Marie Saint,
en 1958 : "Man Hunt/From Hell to Texas" ("La Fureur des hommes") de Henry Hattaway,
en 1959 : "These Thousand Hills" ("Duel dans la boue") de Richard Fleischer, avec Lee Remick,
en 1959 : "Shake Hands with the Devil" ("L'Epopée dans l'ombre") de Michael Anderson, avec James Cagney,
en 1961 : "The Hoodlum Priest" ("Le Mal de vivre") de I. Kershner,
en 1962 : "Advise and Consent" ("Tempête à Washington") de Otto Preminger, avec Henry Fonda, Walter Pidgeon, Charles Laughton, Peter Lawford, Gene Tierney, Burgess Meredith,
en 1965 : "Kid Rodelo" de Richard Carlson, avec Janet Leigh,
en 1965 : "Baby the Rain Must Fall" ("Le Sillage de la violence") de Robert Mulligan, avec Steve McQueen, Lee Remick,
en 1966 : "The Plainsman" ("Une Aventure de Buffalo Bill"), de David Lowell Rich, avec Leslie Nielsen,
en 1969 : "Childish Things" de John Derek, David Nelson, avec Linda Evans ("Dynasty"),
en 1969 : "Daughter of the Mind" de Walter Grauman, avec Ray Milland, Gene Tierney, John Carradine,
en 1970 : "The Intruders" de William A. Graham, avec Harrison Ford,
en 1972 : "Conquest of the Planet of the Apes" ("La Conquête de la planète des singes") de J.Lee Thompson, avec Rody McDowall,
en 1974 : "The Girl on the Late, Late Show" de Gary Nelson, avec Van Johnson, Yvonne De Carlo, Walter Pidgeon,
en 1974 : "The Sex Symbol" avec Shelley Winters,
en 1975 : "A Girl Named Sooner" de Delbert Mann, avec Lee Remick, Richard Crenna,
en 1977 : "How the West Was Won" de Burt Kennedy et Daniel Man, avec Eva Marie Saint,
en 1979 : "Crisis in Mid-air" de Walter Grauman, avec Greg Morris ("Mission impossible"), George Peppard ("Banacek"),
en 1980 : "Fugitive Family" de Paul Krasny, avec Richard Crenna, Mel Ferrer, Eli Wallach,
en 1981 : "Return of the Rebels" de Noël Nossek, avec Barbara Eden (LeeAnn de la Vega dans "Dallas"),
en 1981 : "Endless Love" ("Un Amour infini"), de Franco Zeffirelli, avec Brooke Shields, Martin Hewitt,
en 1986 : "Peggy Sue Got Married" ("Peggy Sue s'est mariée") de Francis Coppola, avec Kathleen Turner, Nicolas Cage,
en 1989 : "A Brand New Life" de Eric Laneuville, avec Barbara Eden,
en 1991 : "Ghosts Cant' Do it" de John Derek, avec Bo Derek, Anthony Quinn, Donald Trump.
Il a fait également des apparitions dans des séries, certaines anciennes comme :
en 1950 : "Studio One",
en 1951 : "The Philco Television Playhouse",
en 1956 : "The United States Steel Hour",
en 1968 : "The Outcasts", en français "Les Bannis", dans laquelle il partageait la vedette avec Otis Young.
d'autres plus récentes :
"Police Story",
"Matlock",
"Arabesque".
retour